11Watt RGB show laser projector with FB4 laser show software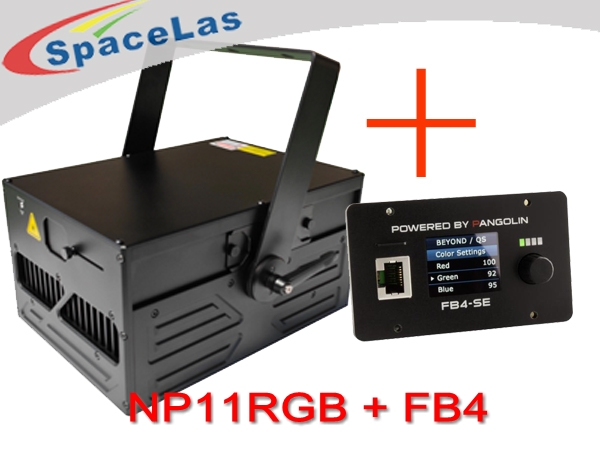 Product name : 11Watt RGB show laser projector with FB4 laser show software
Model No. : NP11FB4
Products Category: > Laser Projectors FB4

This is the new type 11watt RGB laser projector [NP11RGB] package. 11watt RGB fullcolor, with FB4 laser show software inside for easy use.

11watt RGB with the dustproof case design, very pro.
FB4 quickshow laser software input the laser unit, simply plug up the net cable to both laser unit and the computer to control and edit the programs of what you want.
Very easy to install for your projects.
DIODE SOURCE:
RED 637nm 2800mW
GREEN 520nm 36000mW
BLUE 445nm 4500mW
Beam Diameter: <5.5mm
Beam Divergence < 1.0mrad
SCANNER:
30Kpps @ +/-30degrees
Mirror Size: X|12x8.5mm, Y|14x8mm
Reflect Angle: +/- 30degrees
FUNCTIONS
Anologue Modulation: >100KHZ
Cat5 remote control for safety
Key switch safety on/off for safety
Scan fail on/off for safety
IP52 dustproof design
Size:
L: 344mm
W: 245mm
H:177mm
Net weight: 16kgs
Package: Plastic Flight case
Send Inquiry :
Related Products :