30Watt RGB showlaser projector with FB4 laser software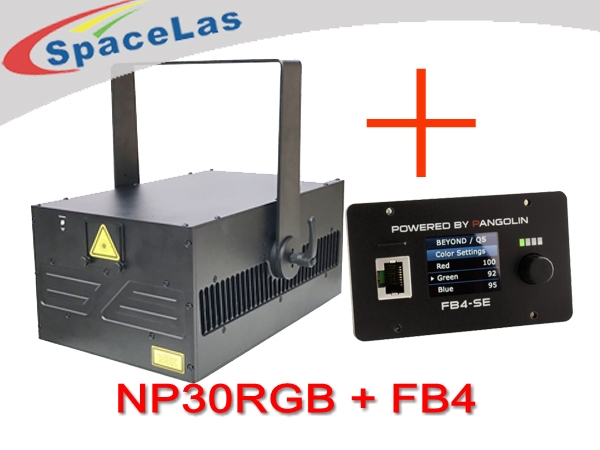 Product name : 30Watt RGB showlaser projector with FB4 laser software
Model No. : NP30FB4
Products Category: > Laser Projectors FB4

30watt high power RGB show laser projector [NP30RGB] can put the FB4-SE inside.
Dustproof case design for better maintenence.
FB4 with quickshow or beyond is required by customers.
Product Name:
Laser Show Projectors
Item Number:
NP30RGB
Power Input:
AC90-240V 50/60Hz
Brand Name:
SpaceLas
Laser Power:
>30Watt RGB
Modulation:
Analogue
Application:
Music Show, City Laser, Building Laser, Concert, Etc.
Higher power RGB laser show projectors, laser display system, 30watt RGB NP30RGB with dust proof design & wide angle 30kpps galvo scanner system inside.
Low divergence small beam RGB laser system.
Outdoor use for outstanding building, mountain logo / graphic sight, or water screen Etc.

ITEM NUMBER: NP30RGB laser show projector
Laser Power: 30000MW
637nm Red: >8000mw
520nm Green: >10000mw
447nm Blue: >12000mw
Divergence: ~1.1mrad(full angle)
Beam Diameter: ~5.5mm
Modulation: >50Khz Analogue
Scan Speed: 30Kpps @ +/-30 degrees
Scan Angle: Max 80 degrees optical
Control Mode: ILDA (laser show software)
IP Rate: IP 52 dustproof
Net Weight: 30kgs
Power Input: 100/240V 50/60Hz
Application: Disco, Night club, Event shows, laser show, concert, etc.
Package: Flight case
NOT stock product, need about one week for production.
Send Inquiry :
Related Products :