Competitive 7watt Green Laser Projector with FB4 inside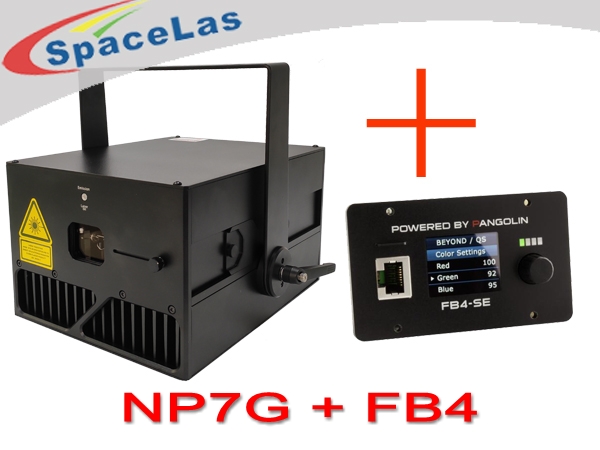 Product name : Competitive 7watt Green Laser Projector with FB4 inside
Model No. : NP7GFB4
Products Category: > Laser Projectors FB4

Single color green laser projector package, 7watt green laser light [NP7G] with FB4 inside.
Green laser light is popular because the green color is very good color for eye sensitive. It is much brighter than red and blue color by the same power showup.
FB4 Quickshow laser show software, is from Pangolin Inc. USA. It is a very popular laser show editor, and very easy to control.
To connect the laser projector to your computer, simply plug net cable up at two sides. Compared to the ILDA cable, this will be much easier.
Product Name:
Laser Show Projectors
Item Number:
NP7G
Power Input:
AC90-240V 50/60Hz
Brand Name:

SpaceLas
Laser Power:
>7Watt Green
Modulation:
Analogue
Application:

Club, Disco, Ktv, bar, pub, party, events, etc.

7Watt Green laser show projectors
NP7G, new design small case for 7watt single green laser show projector.


Lasers:
520nm green 7000mw Analogue

Galvo system: ILDA 50kpps
Preset: 30kpps @ 60degrees

X / Y inverter
Beam divergence: 1.0mrad
Size: 298mm x 230mm x 169mm
Net weight: 8.5kgs
Control mode: ILDA-PC control
Dustproof IP52
Package: Plastic Flight case
Reserve the FB4-SE installated place for customer's need.
NOT stock product, need one week for production.
Send Inquiry :
Related Products :