High power 20watt laser projector with FB4 laser show software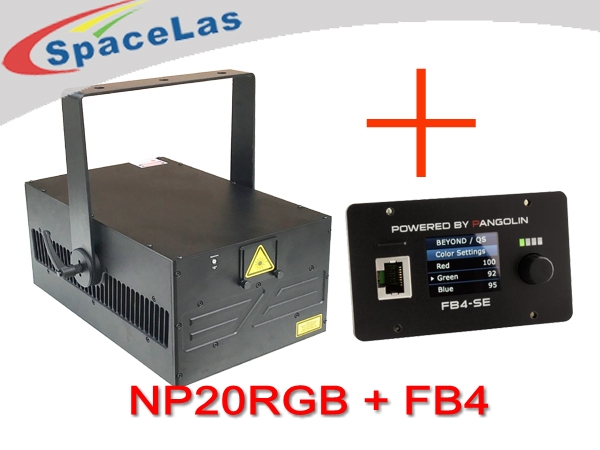 Product name : High power 20watt laser projector with FB4 laser show software
Model No. : NP20FB4
Products Category: > Laser Projectors FB4

20Watt high power RGB laser projector [NP20RGB] is a show laser with dustproof design case.

FB4 Quickshow / Beyond (as required) is put inside the projector for easy control.
Quickshow / Beyond preset more than 2000 pattern inside the software, it is very easy to program your shows. Beam, Dot, animation, graphic, as many as there it is.
Product Name:
Laser Show Projectors
Item Number:
NP20RGB
Power Input:
AC90-240V 50/60Hz
Brand Name:
SpaceLas
Laser Power:
>20Watt RGB
Modulation:
Analogue
Application:
Music shows, logo advertising, Laser shows, Concert, Etc.
Higher power RGB laser show projector dj lighting system 20watt RGB, with dust proof design, 30kpps galvo scanner system.

Low divergence small beam RGB laser system.
Outdoor, indoor use for shows, events.

ITEM NUMBER: NP20RGB laser projector
Laser Power: 20000MW
637nm Red: >6000mw
520nm Green: >7000mw
447nm Blue: >8000mw
Divergence: ~1.1mrad(full angle)
Beam Diameter: ~5mm
Modulation: >50Khz Analogue
Scan Speed: 30Kpps @ +/-30 degrees
Scan Angle: Max 80 degrees optical
Control Mode: ILDA (laser show software)
IP Rate: IP 52 dustproof
Net Weight: 28.5kgs
Power Input: 100/240V 50/60Hz
Application: Disco, Night club, Event shows, laser show, concert, etc.
Package: Flight case
Products are always in stock, ready to send out with 48 hours after re-check.
Send Inquiry :
Related Products :